Advice
How to store & protect your winter coats during summer.
Here are our best tips & tricks for keeping your winter coats in pristine condition over summer.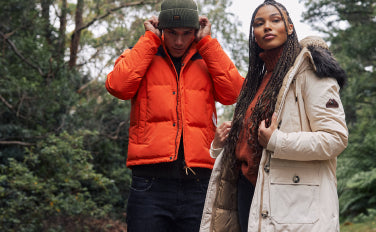 - Donate or sell any unwanted or unworn winter clothes before storing them to maximise your wardrobe space.
- Wash and repair items first to prepare them for months of storage.
- Store carefully to avoid damage from moths or the elements.
At Superdry we consider ourselves experts on winter jackets, with one of the widest ranges of men's and women's puffer jackets and padded coats on the market. When the chill of winter starts creeping in we know that a Superdry store is the first stop for many who are looking to refresh their wardrobe and fight off the cold.
But as the days start to warm up those heavy winter layers need to go to make room in your closet for your lighter clothing. A good quality winter coat is not cheap, which means that making the effort to store it correctly in the off-season is crucial for protecting your items and your investment.
We've broken down 3 easy steps for when it's time to pack away your winter items. From snow and ski jackets to fleece and insulated jackets, just follow our simple guide on how to store your winter jackets to make sure your closet space is maximised and your seasonal clothing stays in top condition.
Edit your wardrobe
If you've got a collection of puffer jackets, padded coats, down coats or windcheaters, then the best place to start is by getting rid of the ones you haven't worn or used during the season.
Consider refining your collection to just a few core jacket styles that you know you'll wear again and again, then look for consignment shops you can sell the unwanted ones to or consider a secondhand retailer site and app like Depop or Facebook Marketplace.
If you're not interested in reselling your winter clothes, or the styles just aren't selling, look to more sustainable options like giving gently worn items to family and friends, or taking them to your nearest thrift store or homeless shelter before you think about putting them in the bin.
Prep for storage
Just because your jackets are about to be unworn for 6 months doesn't mean you don't have to clean them before storing them away. When you store clothes with food stains and odours on them, it not only makes them harder to remove later but it can attract bugs and pests that will eat away at the fabric. Wash or dry clean your jackets and coats and treat any stains before you think about storing them for the summer to help keep nasty smells out of the fabric.
If your jacket or coat has taken some damage from being worn all winter long, dust off your sewing skills or visit your local alterations shop to replace any missing buttons or repair rips and holes.
Another crucial step before storing away your coats and winter gear is investing in cedar balls, blocks, or rings and lavender sachets. Not only do these smell great, but these natural bug repellents are the easiest way to keep moths far away from your expensive clothing.
Take your time to do all the above and future you will thank you for it when next winter comes and your jackets and snow gear are ready to wear.
Organise & store
Once your winter coats and jackets are clean and repaired, you're ready to store them away and make space for a fresh spring and summer wardrobe.
There are a few ways that you can store your winter items, and no one option is better than the other. The most important thing to consider when storing clothes for the off-season isn't necessarily how you store them, but how you store them within your living space. 
Taking into account how much available storage space you have in your bedroom, laundry, or spare rooms will determine how you should be storing your clothes. 
If you have access to extra bedrooms and closets, moving your jackets and coats into another room is an easy solution to free up your own wardrobe. In these cases, make use of hanging garment bags to neatly separate and protect your items.
If you're lacking extra rooms and closets, opt for vacuum seal bags, storage cubes and stackable tubs for putting under your bed and in your wardrobe. These will not only reduce clutter, but keeping your clothes in an airtight container helps to keep them safe from dust, insects, and moisture.
For the budget conscious, consider what you already have in your home first. Unused luggage from your Euro holiday 3 years ago? Unless you have another trip planned soon, a good quality suitcase makes a great storage solution for your off-season clothing.
Mistakes to avoid
After going to all that effort to make sure your winter gear is clean and in good condition for storage, the last thing you want to do is risk getting them dirty or damaged again.
When storing clothing in your home, whether they're in containers, bags, or fabric cubes, the space you choose to store them in is just as critical as how you store them. Avoid spaces with irregular conditions, like unheated garages or outdoor sheds, as these areas have changing temperature and moisture levels. Clothing should always be stored in a cool, dry place to prevent heat and moisture from damaging the fabrics.
Final thoughts
Creating space in your wardrobe for the spring and summer seasons doesn't have to be difficult, and a cleaner, more refined wardrobe will also help you to feel refreshed and ready for the change in weather. Taking the time to store your winter coats and jackets properly once the season's over not only gives you some much needed closet space, but it means your expensive outerwear is likely to last for years, saving you money in the long run.